KINZE 3000 (8x lines 75 pneumatic precision seed drill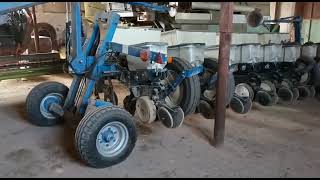 1/8
Type
pneumatic precision seed drill
Location
Czechia
Jihlava
Placed on
more than 1 month
Need delivery?
Calculate the cost of delivery
very little used

suitable for sowing corn and sunflower (no-till)
for granular and liquid fertilizers
zone processing of the seedbed KOLTREM
double frame
central drive of the sowing device
gears for seed setting

disks dia. 380mm, thickness 3.5mm
disc scraper
machine control - hydraulic and electrical distribution
1. majitel

velmi málo používaný

vhodný k setí kukuřice a slunečnice (bezorebný)
na granulovaná i kapalná hnojiva
zónové zpracování seťového lůžka KOLTREM
dvojitý rám
centrální pohon výsevního ústrojí
ozubená kola pro nastavení výsevku

disky prům. 380mm, tloušťka 3.5mm
škrabka disků
ovládání stroje - hydraulický a elektrický rozvod
sehr wenig genutzt

geeignet für die Aussaat von Mais und Sonnenblumen (Direktsaat)
für körnige und flüssige Düngemittel
Zonenverarbeitung des Saatbettes - sgn KOLTREM
Doppelrahmen
Zentralantrieb des Sägerätes
Zahnräder für die Saatguteinstellung

Festplatten dia. 380 mm, Dicke 3.5 mm
Scheibenschaber
Maschinensteuerung - hydraulische und elektrische Verteilung
bardzo mało używany

nadaje się do siewu kukurydzy i słonecznika (bez uprawy)
do nawozów granulowanych i płynnych
strefowa obróbka rozsadnika KOLTREM
podwójna rama
centralny napęd siewnika,
koła zębate do ustawiania nasion

średnica tarcz 380mm, grubość 3.5mm
skrobak tarczowy
sterowanie maszyną - rozdział hydrauliczny i elektryczny,
очень мало использoванный

подходит для посева кукурузы и подсолнечника (без плуга)
для гранулированных и жидких удобрений
зонная обработка семенного ложа КОЛТРЕМ
двойная рама
центральный привод высевающего аппарата
шестерни для установки семян

диски диаметром 380 мм, толщинa 3.5 мм
дисковый скребок
управление машиной - гидравлическое и электрическое распределение
Important
This offer is for guidance only. Please request more precise information from the seller.
Safety tips
Seller's contacts
CZECH M.A.T.
The phone numbers have been checked
The address has been checked
Jakub Zeman
Languages:
English, Czech
Czechia, Vysočina Region, 586 01, Jihlava, Polenská, 246
Seller's local time: 05:14 am (CEST)
Selling machinery or vehicles?
You can do it with us!